Back to News index
June 2019
Raiven Capital – A trio of TRIUMers discuss coming together to launch their new initiative
If you ask TRIUM alumni about the lasting benefits of the program, the answer unequivocally includes mention of the 'life-long' relationships forged within each student's cohort, as well as the broad network of alumni and faculty that continue to enrich their lives personally and professionally long after graduation day.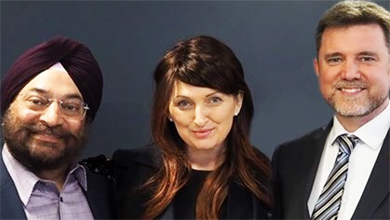 The recent partnership of three alumni — Paul Dugsin (Class of 2018), Supreet Manchanda (Class of 2005) and Leesa Soulodre (Class of 2014) — to form venture capital fund Raiven Capital is testament to the strength of TRIUM's network.
Making connections…
Paul and Supreet met in January 2018 when Paul attended a TRIUM alumni reception on a business trip to San Francisco, and they quickly discovered their shared philosophy on investing, company management, technology and innovation.
"What excites us is being on the frontier of innovative technologies," they say of their shared vision and philosophy. "The process of creation and growth is fascinating and human. It is always interesting to be on the cutting edge from both an investor and a consumer perspective."
The two committed to work out the thesis for a new venture capital fund, and just six months later Raiven Capital was launched. True to Paul and Supreet's original vision, Raiven Capital invests in revolutionary technology and scouts deals across key innovation regions such as Singapore, Israel, London, Brazil, and Switzerland. The global team then curates a portfolio of early-stage tech startups seeking market access and prepares them for growth in comparatively low cost regions like Canada. Once the ventures are ready for rapid market scale, they land them in Silicon Valley to accelerate their growth.
Supreet brings significant technology and operational experience to the team, after having founded and run two global practices for KPMG and led numerous companies as CEO, CTO and CIO. He also ran a $2 billion venture fund and is well networked in Silicon Valley. Paul has deep experience in both running a twenty-year innovation and strategy consultancy and a ten-year investment corporation in Canada.
Despite this deeply relevant experience, they knew that in order to fulfill the promise of Raiven's global reach, they would need to scout a new team member with established international scope and outlook. They didn't have to search far. After meeting at a TRIUM alumni function in New York in 2013, Supreet and Leesa worked together in various capacities, and Supreet knew that her experience working in Singapore—one of the most diverse economic ecosystems in the world—as well as her startup rapid growth expertise and governance and reputation management would add the value and perspective Raiven needed. Leesa joined Raiven and is now an integral part of the team.
As Supreet and Paul explain, "Leesa brings vast experience as a deep tech early stage angel and entrepreneur spanning Europe, Asia Pacific and the Americas. Her relationships and network combined with the library of what to do and when to do it makes all the difference between failure and success for companies in our portfolio. In particular, Leesa looks to create the good governance foundation for scaleups or accelerated market access, and to pursue open innovation. This reduces information risk across the frontiers of Deep Tech R&D, empowering our ventures to tap into best practice and regional capability development. At Raiven she uses these skills in evaluating deal flow to build a superior portfolio with higher returns."
A unique trust…
Though they weren't in the same cohorts, Supreet, Paul, and Leesa say that the shared experience of undergoing the rigors of TRIUM has built a crucial bedrock of trust and understanding between them.
"TRIUM provides a common experience, perspective and language to build frameworks faster, which helps us look at businesses in a global context. That shared 'vibe' also accelerated trust, which is essential for a good team, particularly one that is as highly distributed as Raiven," they say. "The shared experience of trust and deep formative bonding each cohort goes through is a common element, one extends between members of different cohorts."
Raiven is a truly global company: Paul is based in Canada, Supreet in Silicon Valley, Leesa in Singapore, and their global advisors are based in Israel, Eastern Europe, London and beyond. The team says that the execution of such international reach and strategy was made possible by TRIUM. Four other TRIUM alumni are part of the Raiven team as regional advisors.
"The team would not have been the same without the already global nature and DNA of TRIUM. Raiven was able to be a born-global fund," they say.
"The unique nature of TRIUM's global makeup has been great for me as it reflects me to a great degree," adds Supreet. "To find kindred spirits really made it amazing. Every time I meet new TRIUMers and see what they are doing, I am able to see progress of countries that I may have not yet visited through their eyes. As a VC with a global outlook it becomes a valuable tool to better know those ecosystems."
Putting lessons into practice…
The three were able to identify common ground they shared with each other, including the ability to keenly evaluate new technologies and the entrepreneurs behind these technologies, gained from a lifetime of experience. They also share a common view on what they believe are the most salient qualities for successful entrepreneurs: superior technical skills, passion, pragmatic optimism, ability to collaborate, coach-ability, grit and resilience.
Perhaps more critical to their success: the program helped the team fine-tune these skills themselves. "Many times not only are we helping our founders to survive and thrive, but we are constantly learning with them as we disrupt industries," they say.
Paul says the experience with TRIUM fortified his own confidence as an entrepreneur. "Part of the value-add from TRIUM was a level set for me. Being a founder my whole career, it was so useful to compare my life path and career with extremely accomplished people from many other sectors and types of organizations," he explains. "It helped me feel more comfortable in my own skin and begin to try out some of my next ideas at a greater scope. I have many more questions and areas of interest and TRIUM helped provide a platform to leverage."
Leesa explains: "One of the most valuable formative aspects of TRIUM is the immersive experience of working with fellow classmates from many countries and walks of life. All willing to search, share, and compare life and career learnings. TRIUM's diversity and heterogeneity is very valuable as it increases one's self-awareness and builds self-confidence which helps you move forward into new ventures and initiatives."
Looking to the future…
What is next for Raiven Capital? The all-star TRIUM trio will continue to leverage their diverse backgrounds and follow their shared passion in finding revolutionary technologies, disrupting industries, and working to expand Raiven's reach and relevance on a global scale.