By joining TRIUM you will enter a remarkable network of high-achieving global business leaders. The TRIUM Global Executive MBA alumni are among the most qualified and insightful in the international business world.
Their varied backgrounds, perspectives and areas of expertise make the relationships that form amongst TRIUM classmates one of the many powerful long-term benefits of the program. This lifelong network is one of the richest and most rewarding of any executive MBA program.
Not one, but four Alumni Networks
By becoming part of TRIUM, students and alumni not only have direct access to this distinguished community, but they also have access to the alumni communities of our partners schools: NYU Stern, LSE and HEC Paris, with access to databases, libraries, events, lectures and sports facilities in New York, London and Paris.
Through targeted alumni events and specific resources and through continued collaboration among students, alumni and faculty, the TRIUM experience continues to impact one's professional progression long after graduation. By attending TRIUM, you join a life long network that will continue to provide influential guidance and networking opportunities, at every stage of your career.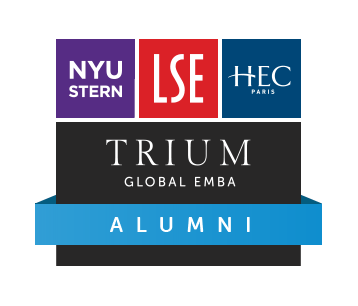 TRIUM alumni
TRIUM offers to its alumni:
Module 7: annual alumni-led event bringing TRIUM alumni together over a long weekend to reconnect and enjoy discussions with faculty and guest speakers. Past destinations include: Moscow, New York and Rome.
More about Module 7
Lifelong Learning: graduates can join the current class for selected courses across the globe and keep learning with fellow alumni.
TRIUM Network : our community's platform enables you to connect with your peers, share news and event listings, and access exclusive content.
Access TRIUM Network
Quarterly Newsletter: stay in touch with the latest news on key alumni topics.
90+
countries represented

New York alumni ambassador
Manish Somaiya

London alumni ambassador
Antonio Emmanouilidis

Paris alumni ambassador
Olga Jordao
NYU Stern
NYU Stern offers to its alumni:
Alumni Events: NYU Stern hosts a variety of thought leadership and social and networking events for Stern alumni, including regional and affinity events and lectures on campus
View events
Alumni Resources & Benefits: alumni have access to a variety of resources including career support, entrepreneurship support, lifelong learning, email for life
View resources
Alumni News & Profiles: get updates on your classmates, faculty research, career resources and NYU alumni benefits and campus news.
View news & profiles
LSE
The LSE offers to their alumni:
Your Global Network: no matter where alumni live, LSE helps them stay connected through regional alumni groups, special interest alumni groups and the LSE Alumni Association.
View more
Alumni Resources & Benefits: alumni have access to a variety of resources including the LSE Library, lifelong learning, careers services, email for life and an exclusive alumni center.
View resources
Alumni Events: the LSE hosts a variety of events including its public lectures in London and regional & affinity groups events all year around.
View events
HEC
HEC offers to their alumni:
Alumni Events: HEC promotes numerous events on campus and globally through the alumni association, affinity groups and regional groups.
View events
HEC Infinity Pass: INFINITY PASS is the new lifetime subscription to HEC Alumni. A one off payment will entitle HEC graduates to benefit from all HEC Alumni exclusive services including, an exclusive access to the alumni network, discounts on programmes and seminars, access to all HEC lounges and more.
About the Infinity Pass