Noah Wild, class representative for TRIUM's Class of 2019, closed his commencement speech with these words, as both a reminder of the program's legacy and as a challenge to his cohort to carry that legacy into their future endeavors:
A mindset of growth. Leadership. Setting the standard. Raising the bar. Being the change that we want to believe in.
As CEO of Wild Beauty, a second-generation family owned and operated company, Noah came to TRIUM with the unique experience of having been groomed within a family business.
Wild Beauty serves as the exclusive distributor for professional salon hair care for John Paul Mitchell Systems around the globe. With more than 100 employees in the back office, the warehouse and the sales force, they service more than 5,000 hair salons in more than ten countries around the world. Given the international scope of Wild Beauty, Noah sought an EMBA program with a strong global focus as well as a curriculum that would challenge his strategic vision for the company and fine-tune his leadership skills.
Noah recently spoke with TRIUM about how the integration of geopolitics, cultural diversity, and global focus of the program sharpened his cultural awareness; how the program inspired a strategic reorganization at Wild Beauty, and the "immeasurable" return on investment he's gained from the program.
What first attracted you to TRIUM and what were you most hoping to achieve? Why did you choose TRIUM over other similar global executive programs?
When I first researched TRIUM I was extremely impressed by the professionalism that the program stands for. The combination of the three schools and the integration of geopolitics in the core of the program really spoke to me. Cultural diversity, different mindsets, the smartest people from all over the globe coming together to learn from each other and grow together – that is a message that got stuck with me and inspired me. In the end I told myself: You only do one EMBA in your life. Either do the one that you can feel most proud of or don't do it at all. That is when I decided to apply for TRIUM.
Wild Beauty is a family business, which seems like a relic of the past. Tell us about the dynamics of a family business and what it's been like to advance your career at Wild Beauty. How did TRIUM shift the way you think of the future of the company and your role?
Well, unlike within the royal family, succession within our business is not an automatism. In the end, working with family offers benefits and challenges. In our case, it took some time to best arrange the professional and private relationship between the different family members within the company. A main benefit from the program was for me the growth in strategic thinking, in using frameworks and patterns to better analyze the status quo of the company and assess the best way forward. Since joining program, we have put together a different organizational structure and a new focus on future business development, which has already and will continue to improve the success of our company.
Wild Beauty has a strong presence throughout Europe. How did TRIUM's global focus benefit you and what new perspective and insight did you gain?
TRIUM truly elevated my cultural competence. Being together with colleagues from all over the world really helped me understand better what it takes and means to be a global citizen. It was also good to be among equals, as none of us could lead based on hierarchy or title, but rather had to get around by making valid points and finding allies along the way.
The global module in Asia especially opened my eyes, as I had no prior business exposure to that part of the world. With the variety of nations that our cohort represents, I now have an amazing network of friends across the world that I can get in touch with, no matter where I am or where the opportunities lead our business to. This is invaluable.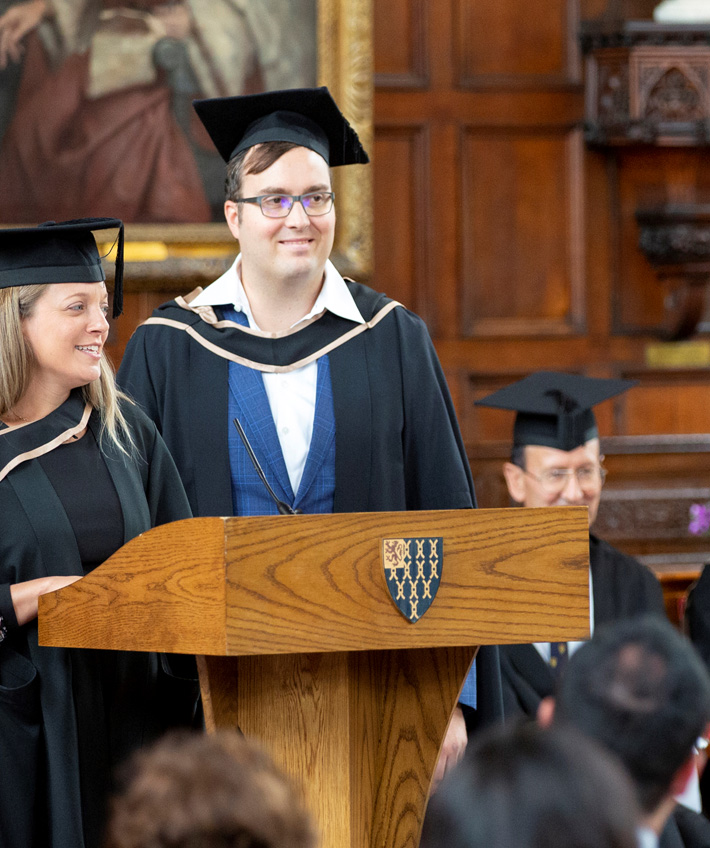 In your graduation speech, you said that TRIUM represents a mindset of growth and leadership. Can you elaborate on how TRIUM helps shape the mindset of growth and leadership? How have you applied this to your work at Wild Beauty?
TRIUM challenges you to open your eyes, to take a step back, and to think differently. Once you are in class and realize the knowledge not only in front of you but also around you, you realize that your own view of the world is neither right nor complete. Perception is reality, and for me TRIUM was a big reality-check in that sense.
It was also amazing to see the passion that our professors have for their craft. They enjoyed the exchanges with us and gained a lot back form the interaction with the cohort. For me, it was inspiring to see that global thought leaders like the TRIUM faculty challenge themselves every day and are ready to take on new ideas.
In your speech you also said "This two-year journey is an exchange of ideas between culture, religion, and different backgrounds. At TRIUM you gain a different perspective. You learn to agree to disagree." Can you elaborate on this idea of opposing viewpoints and on the experience with your cohort?

We had very open discussions on topics such as the future of democracy, the state of China in the world, and the best way of doing business in Africa. It is easy to have pre-formed opinions on these subjects, based on the type of information and media that you are exposed to. But once you realize that colleagues in class have firsthand knowledge from the ground, it can get interesting, as such insights might challenge your status quo. In the end, we learned that it is important to have opposing views in the room, as this just broadens the picture and expands the horizon.
We often heard that no other class loved to debate as much as ours. That is something to be proud of, especially in nowadays time where people tend to live in "filter bubbles" where they are only exposed to views similar to their own.
If you could qualify your return on investment, what would you say? How has your experience with TRIUM added value to your career?
What I gained out of TRIUM is more than a tangible or measurable return. I made friends for life, expanded my horizon and grew to be a better leader. The time at TRIUM was one of the highlights of my life and I am sure that it will continue to transform me long after the program has officially ended, because the modules that you visit are just one part of the TRIUM journey. You become part of the TRIUM family past and present, which is more than 1,000 strong. For me, that says it all.
How would you describe your TRIUM experience in three words?

Unforgettable. Life-changing. Just right.