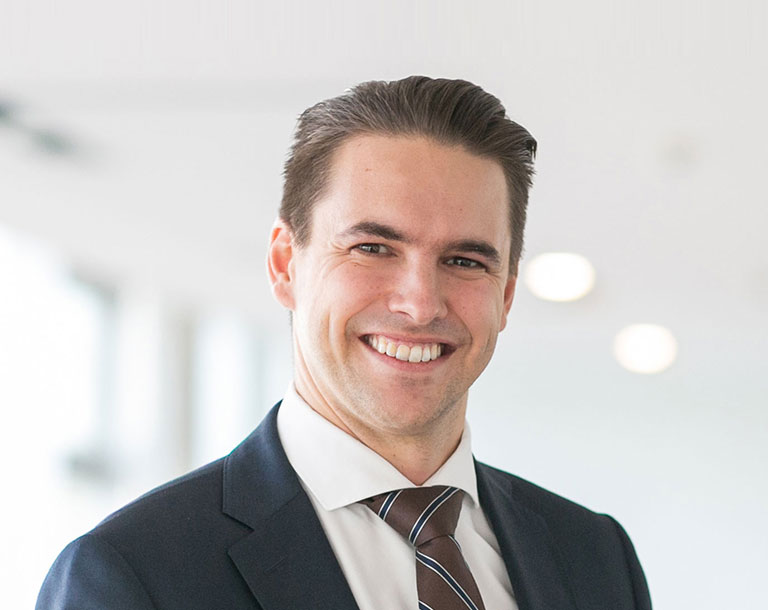 Daniel Mattle, PhD (Class of 2022)
Senior Director, Global Client Program Management, Rentschler Biopharma SE
"The TRIUM experience was truly transformative, as it prepared me to step into this global leadership role, and it shaped the world of tomorrow for me."
Daniel Mattle is the portrait of a truly global executive: He is Swiss-born, was educated in Switzerland, Sweden, California, and Denmark, now lives in Germany, and has been responsible for covering business accounts in Scandinavia and Swiss, Austria, Middle East-Israel and Japan.
In the past few years, this international experience has primed him to help his company, Rentschler Biopharma further expand into the global marketplace and position themselves better in an international setting.
With a PhD in molecular biology, Daniel sought the TRIUM experience in order to gain a deeper understanding of globalization as his company expands, and sharpen his mindset and leadership skills and strategic decision making as a biotech leader.
He recently spoke with TRIUM about how the program "changed his professional personality," strengthened his leadership skills, and why he believes "TRIUM is truly a program for everyone," no matter their field of expertise.
What was your motivation for pursuing a Global EMBA? Why did you choose TRIUM among other global programs?  
At the time of my application, as I was a senior executive in the bio pharmaceutical industry, and the company I was involved in—a family-owned business in Germany—transformed into an international company with the acquisition of a manufacturer in the U.S. As a result, we became a global business, and my role in the business' development changed.
We also expanded at this time into the Asian market, and I led the business development efforts in Japan.  TRIUM's module in Shanghai was appealing, as I expected it would be a gateway and give me insight into the growth potential in these markets.
TRIUM stood out among other programs because it included three of the world's leading business schools. Additionally, there is focus on leadership, entrepreneurism, and finance, all combined with a global outlook.  And entrepreneurial growth is served in the capstone project, which other programs did not offer at this scale.
How did TRIUM's global curriculum contribute to your understanding of current geo-political, economic, and business landscapes, and how are you applying what you learned to help position Rentschler Biopharma in an international setting?
The COVID-19 pandemic struck two months before the program started, and it was a real-life example of how fragile our globalized world is.  TRIUM did an excellent job in bringing current events into the discussion.  This was a truly eye-opening experience.
The program gave me a much deeper understanding of the term globalization and enabled me to personalize it.  As a business leader in an international company, the term now has a new meaning.  I am constantly thinking of what I learned from the faculty and from the cohort when facing questions such as: are we going global with our supply chain, or remaining local and decentralizing operations?
Rentschler Biopharma has always been premium supplier and premier leader in the bio pharmaceutical world.  But, as I mentioned, with the acquisition of the manufacturer in the U.S. and growth in the Asian market, we are on the edge of exciting new future.
One striking moment when I leveraged the TRIUM experience was when we launched into a new business field: advanced therapeutic medicinal products [ATMP]. The marketing class I took in TRIUM added incredible insight to this endeavor.  I had good conversations with senior leadership on how to position this brand in Rentschler's universe, and I was able to refer to the frameworks from TRIUM's marketing class to help me shape this.
How did TRIUM prepare you to pivot into a more strategic leadership role?
The leadership component of TRIUM made the program an absolute must for me.  The self-assessment and coaching sessions, along with the team leadership and group work offered helped me develop a keener eye in leadership.
One of the key takeaways in leadership that TRIUM taught me is that you need to consider your team on an individual basis. Ask: what does this team member want, how do they perform best as an individual, how do they need to be motivated?  At the end of the day, you want to make sure you have high performing teams that are delivering the results they need to deliver, and it starts with a strong leader who can see the team in this way.
Real transformation as a leader starts with personal work, and TRIUM was a safe haven with global executives and peer feedback to explore our different leadership styles. There was an emphasis on leading teams comprised of different cultures, and we learned what leadership styles work for different kinds of people and seeing how different people work was a marvelous experience. It was extremely insightful.
What are one or two things you learned about strategic decision making from TRIUM?
This can be answered in one short sentence. Not everything can be done with a single strategy.  This was a key takeaway for me in our Strategic Learning course.  The same questions and challenges for many companies can end up with different visions and answers. It's important to have a solid foundation but then tailor your strategy to your particular circumstances.
In my current role, I am nurturing the decision making and negotiation skills we learned, which sharpened my mindset.
You came to TRIUM with a scientific background—with a PhD in molecular biology. What would you say to a prospective TRIUM student about your experience who may not feel like they are on the traditional corporate-leadership path?
My advice to someone coming from a non-traditional path: Do not be afraid. It's more important than ever as leaders—especially in the biotech world—to understand the geopolitical landscape and how to make strategic decisions.
I had no hesitation in applying to TRIUM.  I was always drawn to leadership and TRIUM really sharpened my management skills and set me up me to oversee a global team.
TRIUM is truly a program for everyone. That's really important to understand.  It doesn't matter if you're entrepreneur or an intrapreneur within a corporation.  TRIUM gives you the overall knowledge of business and leadership, and the cohort offers a diverse group of like-minded, ambitious, open-minded peers who come from a variety of careers and backgrounds.
What has your return on investment in the program been, or how do you anticipate it will add value to your career in the future?
TRIUM changed my professional personality significantly and has helped me become a clear leader to the people I work with and for. I speak less and listen more and can draw a direct line from these changes within myself and some of the class exercises. This shift has enabled me to understand the different personalities and individual needs of my team, and that return is hard to calculate.
The program also really supported me in clarity of path, and I pivoted into a global management role. In this role, I collaborate with over 400 people, including several tech managers, global supply chain teams, finance, and operations.  The TRIUM experience was truly transformative, as it prepared me to step into this global leadership role, and it shaped the world of tomorrow for me.
How would you describe your TRIUM experience in three words? 
Unique. Global. Fun.