Back to News index
April 2018
1000 Strong: TRIUM Alumni gather in New York to celebrate and collaborate on 'The Future of…'
Launched in 2012, Module 7 has remained a key part of the alumni calendar, offering TRIUMers the opportunity to re-connect and attend an additional module in a different global location each year.
Module 7 is organized by alumni for alumni – a chance to go back to the classroom and listen to world-class speakers in a TRIUM setting, where there is intellectual stimulation and plenty of networking, without the weight of assignments. Module 7 has toured the world over the past six years from Cascais, Portugal in its inaugural year, to Istanbul, Washington DC, Rome, Moscow and Durban, with each new graduating class taking a turn organizing and showcasing a destination of their choice.
This year, Module 7 returns to one of our home schools to celebrate an important milestone, the TRIUM community reaching 1,000 strong. TRIUM, in collaboration with the Class of 2017 and the Module 7 Alumni Advisory Committee, will be hosting a three-day community event in New York City to bring together alumni, students, faculty, and senior industry leaders with a program focused on "The Future of…" Topics covered include: geostrategic risks and opportunities, sustainability, the future of finance, and manufacturing in an AI inflected world.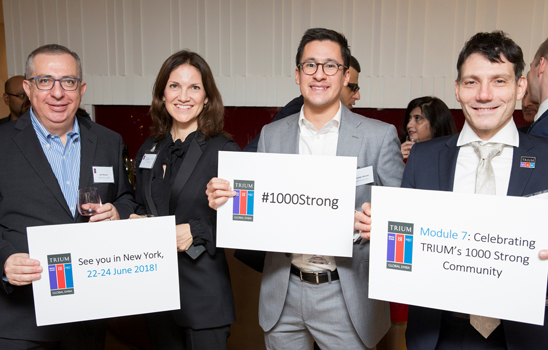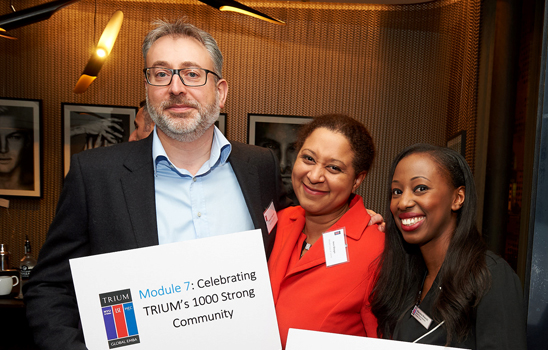 Among the list of distinguished guests and speakers, we are very pleased to welcome Professor Nouriel Roubini as keynote speaker for the event. Often referred to as "Dr. Doom" for his early prediction of the 2007-2008 US housing bubble crash, Nouriel Roubini is also an esteemed Professor of Economics and International Business at NYU Stern. In addition, he has served as the senior economist for international affairs on the White House Council for Economic Advisors under the Clinton Administration and as the senior advisor to Timothy Geithner, former U.S. Treasury Secretary.
Professor Roubini will be joined by a number of equally esteemed and thought-provoking speakers, including Hubert Joly, CEO of Best Buy, Marc Porter, Chairman of Christie's Americas, Andre Wegner, CEO and Co-founder of Authentise and Faculty, 3D Manufacturing, Singularity University, along with TRIUM faculty members Michael Cox, Director of LSE IDEAS and Emeritus Professor of International Relations at the London School of Economics and Political Science, Aswath Damodaran, Professor of Finance at NYU Stern School of Business, deemed Wall Street's 'Dean of Valuation', and Frederic Dalsace, Associate Professor of Marketing at HEC Paris.
In addition to an incredible speaker line-up, Module 7 attendees will also be invited to celebrate their TRIUM experience in style during a Saturday evening reception at NYC's premier rooftop lounge, The Press Lounge. Perched 16 stories above the city, this venue features 360-degree city and Hudson River views and is the perfect place for TRIUMers to gather, network and celebrate together.
We look forward to commemorating this special milestone – TRIUM's 1,000 Strong Community – and welcoming student and alumni members from across 17 class years and 90 countries around the world.