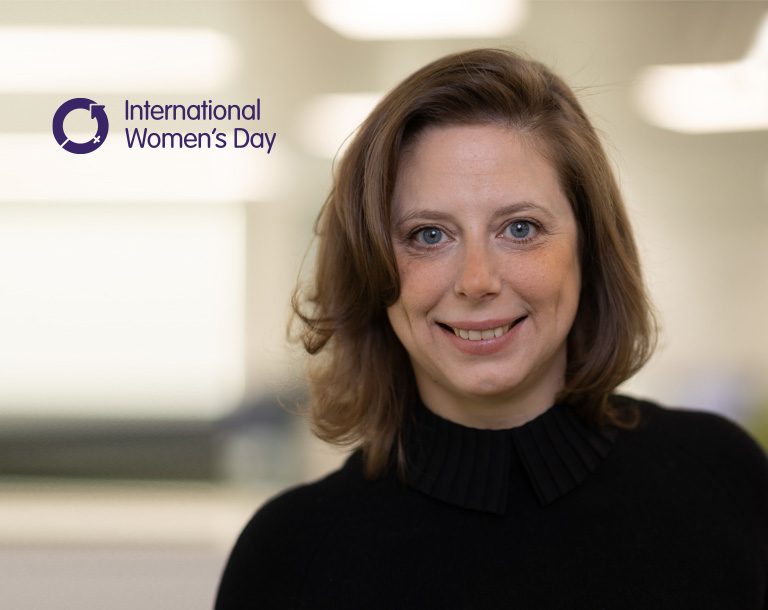 Laura Gherasim (Class of 2022)
Each of TRIUM's cohorts contains impressive, successful women capable of enacting change in the world. On this International Women's Day we shine a light on Laura Gherasim, a corporate sustainability expert we're proud to call one of us.
Laura helps businesses to see that profitability and sustainability are not in conflict and works to build and scale sustainability solutions at a global level. She spoke to TRIUM about her experience studying an Executive MBA while caring for a newborn, why she believes business can be a force for good, and what makes the alumni-led Module 7 so exciting.
You are a corporate sustainability expert. Tell us a little bit more about your day to day, the firm and the clients you work with
I am working at the forefront of sustainability strategy and technology in the innovation arm of the consulting firm Capgemini, which I joined after my maternity break – around the same time as finishing TRIUM. My role is Director of Sustainability Solutions and I work across our major clients in the consumer product, retail and financial services sectors.
Specifically, I focus on helping large organisations reimagine the value they bring to society and create positive social, economic and environmental impact. When thinking of sustainability, too many businesses focus on mitigating or avoiding negative consequences, so we go beyond that and actively encourage our clients to discover how they can adapt their business models and create net positive, regenerative value across the entire ecosystem.
On a practical day-to-day basis, I lead an amazing team of experts and we work on the art of the possible. My time is divided across areas like sustainability, strategy, sustainability upskilling, innovation, systems change, net zero, new business models and reimagining consumption, so I see myself as a generalist in the sustainability world but with particular areas of expertise.
I firmly believe that business can be a force for good, and that profitability and sustainability are not in conflict. Rather, it's a complicated strategy and design challenge that we need to solve. The focus of my career is to find the practical, scalable opportunities that unlock these value opportunities – both for businesses and wider society.
Tell us an interesting fact about you that your fellow alumni might find interesting?
For some reason, I had the amazing idea that I could study while having a newborn at home, so my TRIUM journey took place alongside motherhood. Whether I was optimistic or just naive is up for debate!
It's a useful consideration especially for young parents or parents-to-be – it's definitely possible if you're prepared to invest the sweat and sleepless nights. TRIUM has been very supporting and flexible in making this work for me and my newborn.
What was your motivation for pursuing a Global EMBA? Why did you choose TRIUM among other global programs?
Sustainability is a global, board-level issue, so being able to operate at that level is crucial, particularly in large organisations. It's not enough to only talk about the importance of sustainability, you have to speak the language of the business, to work with the motivations around the table, and articulate the value drivers. It entails communicating the high-level business case and going into granular detail about the implications for operations and the new business models that sustainability can unlock. I felt that an EMBA would give me that fluency to make sustainability part of the executive conversation while supporting function leaders to translate ambition into action.
TRIUM topped the list for a couple of reasons. First, the maturity and experience of the cohort. I wanted to be around people who have a wealth of experience that I can learn from. Second, it's one of the few programs with a strong component around environmental sustainability and is the only program with a climate change dimension. Robert Falkner, TRIUM's academic director, also leads the climate change research for the Grantham Institute, so there's no doubt that TRIUM is teaching from the latest scientific research.
Can you tell us more about the value your cohort has added to your experience?
You get very close with your cohort, which enables you to learn a lot of technical skills from other people. For example I was around people from the VC world who could explain to me how to conduct a valuation. And it's always really interesting to work with a diverse set of individuals. Each one of us comes from a different country with a different leadership style and cultural background.
You are part of the alumni planning committee for Module 7 – the alumni-led event completely developed and led by TRIUM alumni, introducing new markets, new business opportunities and deepening friendships between TRIUM's diverse and global alumni community. Tell us a little more about M7's next destination and what can alumni expect and why should they attend?
Module 7 is a team effort, so a big shout out to the entire planning committee. M7 was established about 20 years ago and is never hosted in the same city twice. This year we're going to Cartagena in Colombia, which is a very exciting, vibrant place rich in culture, cuisine, music, colour and life.
Alumni should attend because apart from experiencing the amazing destination, the goal is to reconnect with the TRIUM community, revive existing connections and make new ones, experience a new cohort, and hopefully learn about the region as well as the local and regional economies.
Finally, how would you describe your TRIUM experience in three words?
Intense. Eye-opening. Collaborative.