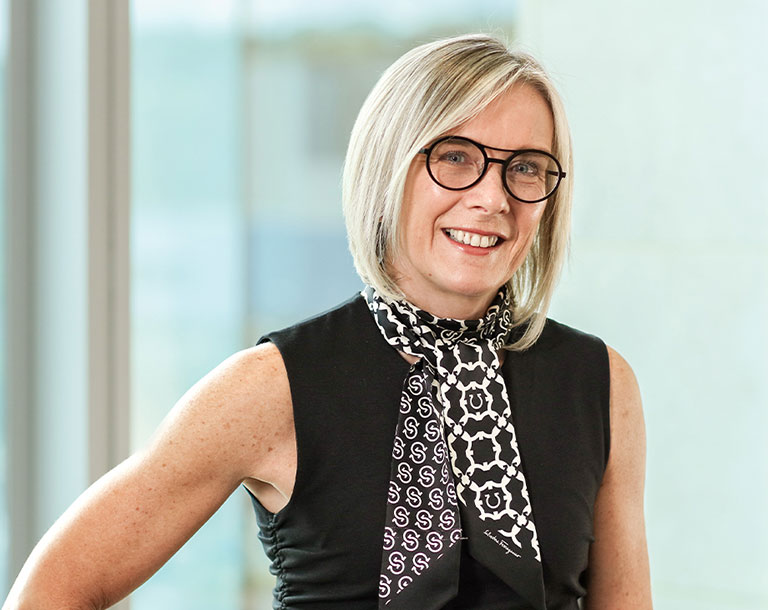 Gillian Keating (Class of 2023)
Gillian Keating is an experienced M&A lawyer, facilitating transactions and acquisitions between Irish entities and multinational companies from around the world. She's also on a mission to help women have access to the economies of the future, speaking with a passion that can't help but move you to join her cause. Her social enterprise, I Wish, has introduced STEM opportunities to over 50,000 girls from 28 countries and this year will host 3,000 girls at the live event with a further 15,000 watching the livestream around the world.
Gillian spoke with TRIUM about why living in Ireland made her want to undertake a global Executive MBA, and what drove her to co-found a social enterprise.
You lead the Corporate Department in an Irish corporate law firm, RDJ. Tell us a little bit more about your day to day, the firm and the clients you work with.
I lead the Corporate and Commercial department at RDJ, which is one of Ireland's top 10 law firms. I'm very much a transaction lawyer, leading merger and acquisition transactions.
In Ireland, we're particularly fortunate because we have a fantastic mix of indigenous and multinational companies. This stimulates great innovation and attracts a lot of interest from both US and European companies in acquiring Irish entities. Ireland is acknowledged as a great place to work and live, and as a professional services firm while we benefit from that we also strive to contribute to that reputation.
What was your motivation for pursuing a Global EMBA? Why did you choose TRIUM among other global programs?
Curiosity pushed me into doing an Executive MBA. It was for personal development rather than my career. I've been practicing law for over 20 years and I wanted to learn more. The socio-economic aspects of the programme were of particular interest.
The reason I chose TRIUM over the other programs was because of its global element. In Ireland, we sit at the edge of Europe and yet when I look outside my window I'm surrounded by multinational companies. Everything we do here is influenced by what happens outside Ireland, so I specifically wanted to pursue an Executive MBA that had a global perspective rather than just an Irish or European perspective.
How has TRIUM's foot-on-the-ground approach to learning in the six international modules impacted the way you approach your work?
This was key. I've always been interested in global affairs but now I devour the information with a new understanding, and I have a fresh enthusiasm for learning what's happening. Everything from the factors influencing the market or inflation, to new legislation in Europe, to events in Iran or Afghanistan and particularly issues that impact the education of women.
TRIUM's approach emphasised the global perspective that I already had, but gave me a greater interest and understanding in what's happening around the world.
Can you tell us more about the value your cohort has added to your experience?
I absolutely loved my time spent with the class in the various cities that we visited. It's fun and that's important, and there is a real collegiality because you have a shared purpose but also know you only have a short period of time together.
I embraced the opportunity to meet people from all over the world, not just the USA or Europe, which gives me a better sense of what's happening in the lives of people in different countries.
How would you describe your TRIUM experience in three words?
Fun, experiential, challenging.
You are the co-founder of a social enterprise, I Wish. Tell us a bit more about this initiative, your involvement.
I Wish is a volunteer-led social enterprise, focused on encouraging young girls to consider careers in the fields of science, technology, engineering or maths – the STEM fields.
The original idea came about nine years ago, when I was president of the Chamber of Commerce in Cork. That role required me to visit a lot of multinational companies, many of whom were concerned that they couldn't recruit enough people to fulfill the jobs they had. When you dig into that, it became clear that women weren't engaging with the roles. The companies didn't have difficulty recruiting men, but there was a whole pool of potential candidates who weren't applying.
This would mean young women wouldn't be in a position to participate in the economies of the future – because STEM is where the development and growth in career opportunities are going to be. If young girls aren't engaging with those careers then we have a problem, partly because they're denying themselves opportunities but also because there's a danger of codifying biases and rolling back years of development. This was particularly true back then, as the AI tools we all interacted with were built by white males, so we had examples of HR software that was biased against applications from women. There were numerous situations like that, simply because people weren't as aware of the built-in bias emanating from the limited pool designing the software.
I was also very interested in ensuring that Ireland could compete on a global stage. As a nation we are so dependent on companies choosing Ireland for future growth. So at the beginning, the driving force was both a talent pipeline economic issue for Ireland, and ensuring the next generation of women could be fully enabled to participate in the economies of the future. Today, it's all about the girls.
There are three co-founders and we all sat down nine years ago and made the decision that we were going to pursue it for a year, and we'd review it after that. We had 1,000 attendees that year and were blown away by their reactions. We received emails afterwards telling us how transformational it was for them. The partners and sponsors who participated in it were also blown away. They had an incredible feeling that they were making a difference and prevailed upon us to do it again. We've been doing it for nine years now.
How can the TRIUM alumni community get involved and support your ambition to address gender balance in STEM education with I Wish?
There's a few ways I'd love to engage with the international community.
When Covid hit, we were faced with the option of stopping or going digital, because we couldn't have face-to-face interaction with the girls. But we felt so sorry for them because they were already doing online schooling at home, and we didn't want a whole cohort to lose the opportunity to learn about STEM careers.
We opted for the digital version but to make it different from the other Zoom classes they were having, we built a TV-style studio to really engage the girls as if they were watching a TV show. Incredibly, this found an international audience and we had thousands of people joining from the USA, UK, and various countries around Europe and Africa – countries we'd never reach ordinarily, and we repeatedly heard that they had nothing like it in their own cities or countries.
This evolved into twinning programs, where we'd partner girls from schools in, for example, the USA and Ireland, and this resulted in the videos of "the world through my eyes" which are available on the I Wish website.
This year we're doing a hybrid event where there is the in-person showcase event in Dublin, and a livestream. There's also one session specifically for the international audience, which the mayor of San Francisco is opening for us and there is a list of interesting international speakers lined up.
We'd like as many international girls as possible to join, and if the TRIUM alumni can help spread the word to their daughters, nieces, and friends, it would really help. It costs nothing and is 90 minutes of full-on fun, engaging the girls with STEM opportunities and linking them to the opportunities in the companies that operate here in Ireland and, in many cases, the countries that the girls are watching from.
The other area the alumni community could engage is if the girls' schools want to participate in the mentorship or twinning programs, or if any alumni are senior executives in a company who would like to partner with us, we'd love to hear from them.
Why is it important for girls to consider STEM careers?
Girls often say they want careers where they can help other people. This usually brings to mind careers such as nursing and teaching; admirable professions, but there are more options to helping people than only these.
We want to show how being a data analyst can help in healthcare, how engineering companies address and reconnect people who are isolated in the world, and even show them how a company like Meta has tech that can help to locate missing people.
Film is big in Ireland at the moment, and we've had Cartoon Saloon, an internationally recognised animation company, appear at the event to show girls how simple it is to create animation using code. So there's that creative side as well, it's not all about engineering and maths. Ultimately it's about speaking to the girls in a manner that resonates with them and connecting their dreams with information to make them happen.
The pandemic also highlighted the importance of girls considering STEM careers: the first jobs to go were in industries mostly filled by women – such as hospitality and personal care like hairdressing. At the same time, people working in tech companies were able to continue working from home unaffected. That gave us all a glimpse of how science and technology is the future in terms of career pathways, but we're closing the door to 50% of people for those careers.
The theme of the forthcoming International Women's Day on 8th March is #EmbraceEquity with a focus on a gender equal world free of bias, stereotypes and discrimination. How do you see the forthcoming STEM event that I Wish is organizing on 28th February contributing to driving gender parity?
The event is about opening young girls' eyes to the opportunities to participate in the economy of the future. If we don't do that, women won't be represented in the companies transforming all of our lives and we risk codifying biases. We also risk denying young women and society at large an opportunity to be the change-makers that we need them to be.
Registration for the free 2023 International I Wish event is available at iwish.ie/register.
Follow I Wish:
LinkedIn: @i wish
Instagram: @iwish_ie
Twitter: @IWish_ie
Facebook: @IWish