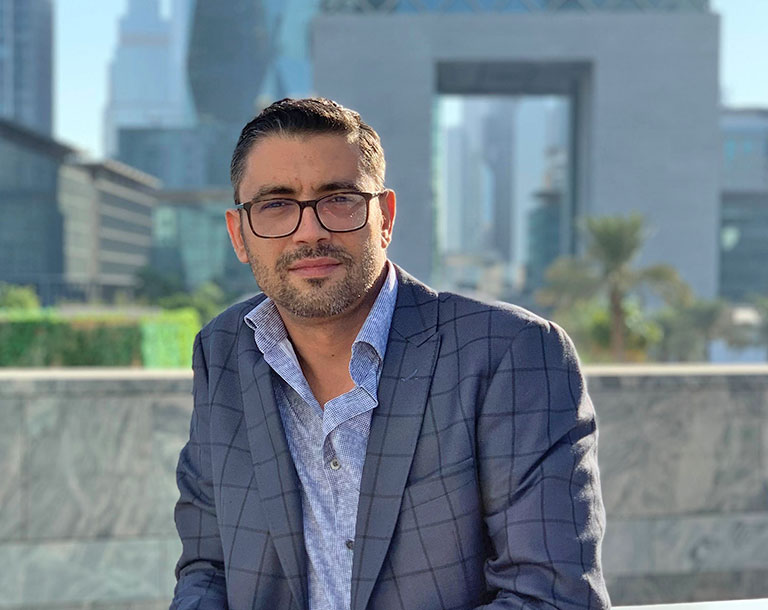 Antonios Skoulariotis (Class of 2022)
Antonios Skoulariotis keeps millions of people safe. As a technology business leader, he shares the tools and information used by global enterprises to safely and efficiently handle data – a broad term covering everything from voice, video, applications to customer information. Out of the office, he can often be found behind the wheel acting as an unpaid taxi driver for his children.
Antonios spoke with TRIUM about his motivation for pursuing an Executive MBA, how the knowledge from the program helped him to improve company processes outside of his own department, and his surprising background on the white slopes of Greece.
How do you spend your downtime?
Between sports, school, and after-school activities, my wife and I are practically Uber drivers for our kids. When I do have some time to myself I like to play music – I play the bouzouki, which I like to call the national instrument of Greece – or read financial magazines, but mostly I spend my time with my wife and children.
Tell us an interesting fact about you that your fellow alumni might find interesting?
I grew up in Greece, and during my teenage years I came first in cross-country skiing. But it's not the accomplishment people find surprising – it's that they didn't know we have snow in Greece! Most people think of tourism and sunny beaches, but I lived in the mountains so we had plenty of snow and I started skiing at a young age.
What was your motivation for pursuing a Global EMBA? Why did you choose TRIUM
among other global programs?
I finished my second Masters in engineering in 2005, and it was such a demanding couple of years that I swore I'd never open a book again. I took a quick break but, of course, soon realised that I wanted to do an MBA. Motivated by the fact that I've always worked for global organisations and have high aspirations for my career, I started putting patterns together in my head and wondered what the successful corporate executives have in common. The answer was they all had an MBA.
There's a story behind how I chose TRIUM. At first, I started the process of joining a different, highly respected program in the USA and went through the interviews and exams. I took the option to sit in a class and I just knew I didn't belong there. Everyone in the class was great but part of the value of an EMBA is to learn from your cohort. Knowledge and wisdom are synonymous, and I wanted that extra caliber of participants on the program.
I decided not to continue with that program. As I live in New Jersey and work in the city I was looking at the NYU program, then I saw the global EMBA option and when I clicked on it, I saw the London School of Economics. I moved to the UK in 1997 and I knew the caliber of the LSE from that period of my life. I also saw that HEC in Paris was part of the program.
I researched more deeply, connecting with alumni on LinkedIn. I liked the culture and saw that the participants make TRIUM truly global – there were students from all over the world, and I wanted to have more interaction with folks that had experience with other regions of the world.
And in addition to the classes, the professors are second to none. So combined, there was the high caliber education element, the social element, and the geography element. Needless to say, I fell in love with the idea of being part of TRIUM even before I was accepted.
What does your current role entail as a technology business leader with a focus on Business Development?
I'm a recently appointed Director of Business Development, but specifically I work in technology. I'm responsible for technology and innovation strategy, products, and service offering through our organisation to our clients, which are predominately global enterprises.
Those clients span a lot of industries and countries, so we don't operate in a single vertical. Instead, I like to call myself horizontal. We have partnerships with cloud providers, such as the AWS, Google Cloud, and Microsoft Azure's of the world.
Security is a huge part of my job and essentially I put pieces of the puzzle together by working with cross-functional teams and looking for market trends, where innovation is going, and how you can translate innovation into value-adds for the organisations.
We live in the era of data evolution. Data is useful but the way you collect, transport, and secure it is where I come into play. Artificial Intelligence, machine-to-machine learning, hyper-scalers, cloud architectures, security, all of these pieces have to come together to work cohesively and that's the function of my role.
How has TRIUM's foot-on-the-ground approach to learning in the six international modules impacted the way you approach your work?
By the time I started TRIUM my career had given me a lot of experience working in the global environment, but I wanted to take that a step further. TRIUM put me on desks with people that had totally different backgrounds, and I needed that to develop as a person, become a better professional, and to be a better leader.
Different professions will have different ways of approaching a problem: a doctor, entrepreneur, and tax attorney will all have their own ways. Each one is unique and when you combine those approaches together, you learn.
We worked on projects with professionals from all social walks of life and that was fantastic. I didn't want to be in a classroom with only technologists – that's what I am, so I have enough knowledge of how an average technologist thinks. I needed the extra flavour that I was not already exposed to, and TRIUM delivered that.
Can you tell us more about the value your cohort has added to your experience?
I remember an early class on strategy. Immediately, I began to think about how I could take that level of information and make it my own in my job.
At the time, I was hiring a lot of people and I saw so many inconsistencies in the processes for hiring and compensation, but they were beyond my responsibilities. I was running teams that supported technology efforts, but I was able to translate the information into an economic exercise and implement it. As a result, the company saved a lot of money on a resourcing plan.
Midway through the program, I joined the company I'm at today. TRIUM gave me so much more credibility and respect, and the opportunity to sit at different decision-making tables. In my line of work, you can sell the best solution in the world but I can almost guarantee that the person signing the $140 million contract doesn't have a technical background. TRIUM and the people I studied with helped me develop the skill to take a financial model and explain it succinctly and in a way that doesn't bore people. That was of immense value to me.
TRIUM is a phenomenal program, and the knowledge I learned from my cohort is at least equivalent to what we learned in the classroom – the classroom lessons were incredible, so that shows how valuable the cohort was.
How are you engaging with the TRIUM alumni community? Are you in touch with
other TRIUM alumni? What is the activity like in your region?
I try to make every effort possible to reach out to people and I keep in touch with almost every single person from my cohort. I've connected with alumni from past cohorts on social channels and I also made it a goal to identify every Greek person that has joined TRIUM.
I'm fortunate to live in the main hub of the New York, New Jersey, Connecticut tri-state area, so there's a lot of activity and always an event happening.
How would you describe your TRIUM experience in three words?
Return on investment. I don't mean only in a financial sense; I grew as a person, a family member, a professional, and I believe the best is yet to come.